A few years ago I did a day on Christmas Eve. Thinking about it, it had to have been 6 years ago, because I was still living in my parents' house! So much has changed in those 6 years... I'm posting both an extended version with stuff after midnight at the beginning of my day for just my friends and the regular version for the ADIML community.

I'm Lisa.
Age 32
Spanish Language teacher
New York, USA (not to be confused with NYC, I actually live a few hours north of it).

I have done a bunch of previous days, but not very recently.

Without further a do, here is Christmas Eve 2014!!!</b>


Hello! This isn't the best introduction picture of me, but they all can't be perfect ;)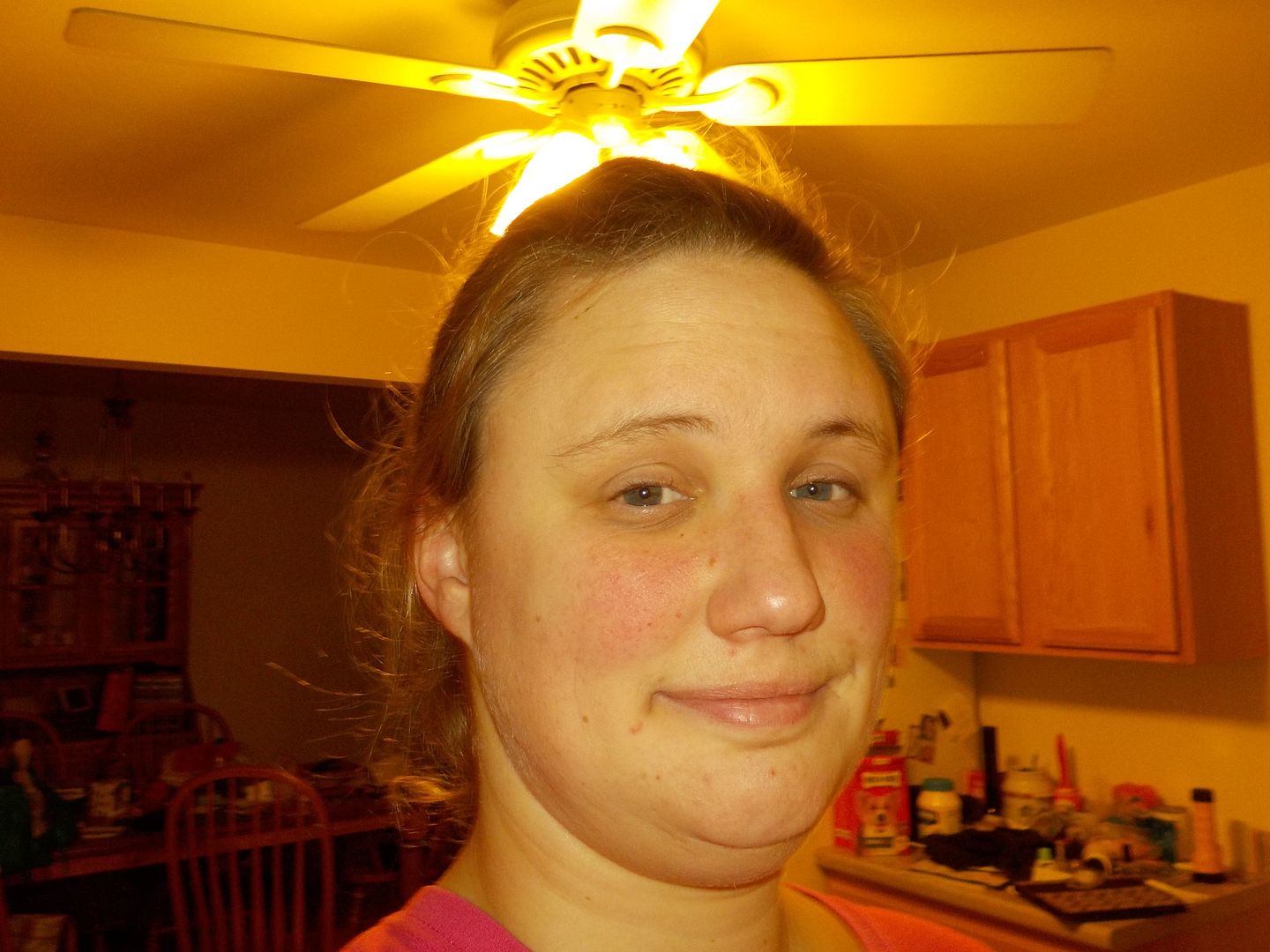 Originally I invited my husband's parents over for Christmas Eve. But, after a long story involving my brother-in-law's wife, Katrina, it was now going to be at my mother-in-law's (Ginny) and father-in-law's (Mickey) house. Ginny was going to make a turkey dinner. I felt bad that the plans had to change and now dinner was her task, so I volunteered to make the stuffing and sweet potatoes. The picture above was after a good hour or so of preparing the stuffing mostly from scratch(I cheat and add a box of the pre-made stuff to the mix!).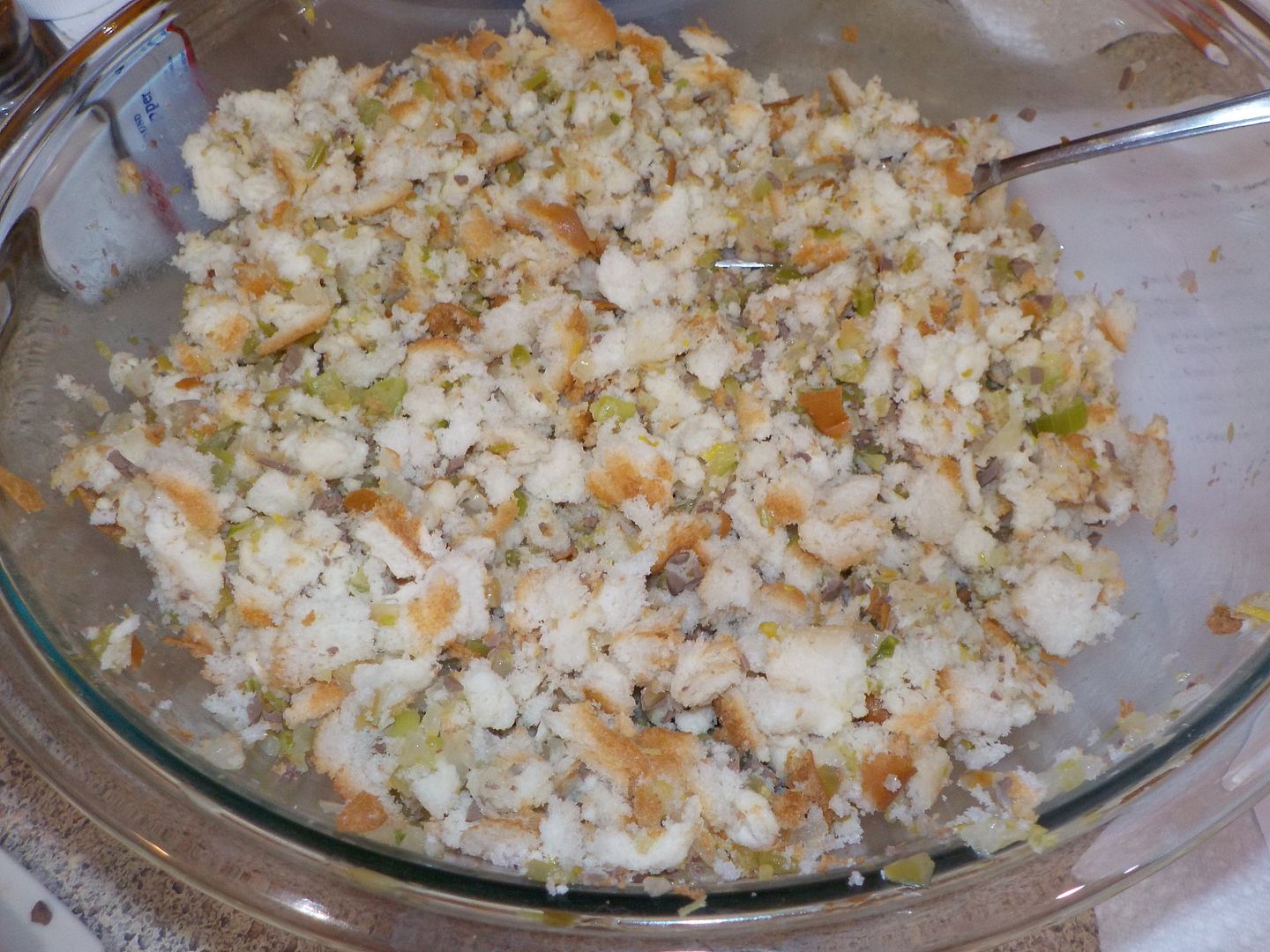 My husband, Frank, told me after the fact that he snuck some when I wasn't looking and it tasted really good. So that made me less nervous about the final product. I'm always a little nervous cooking for my in-laws!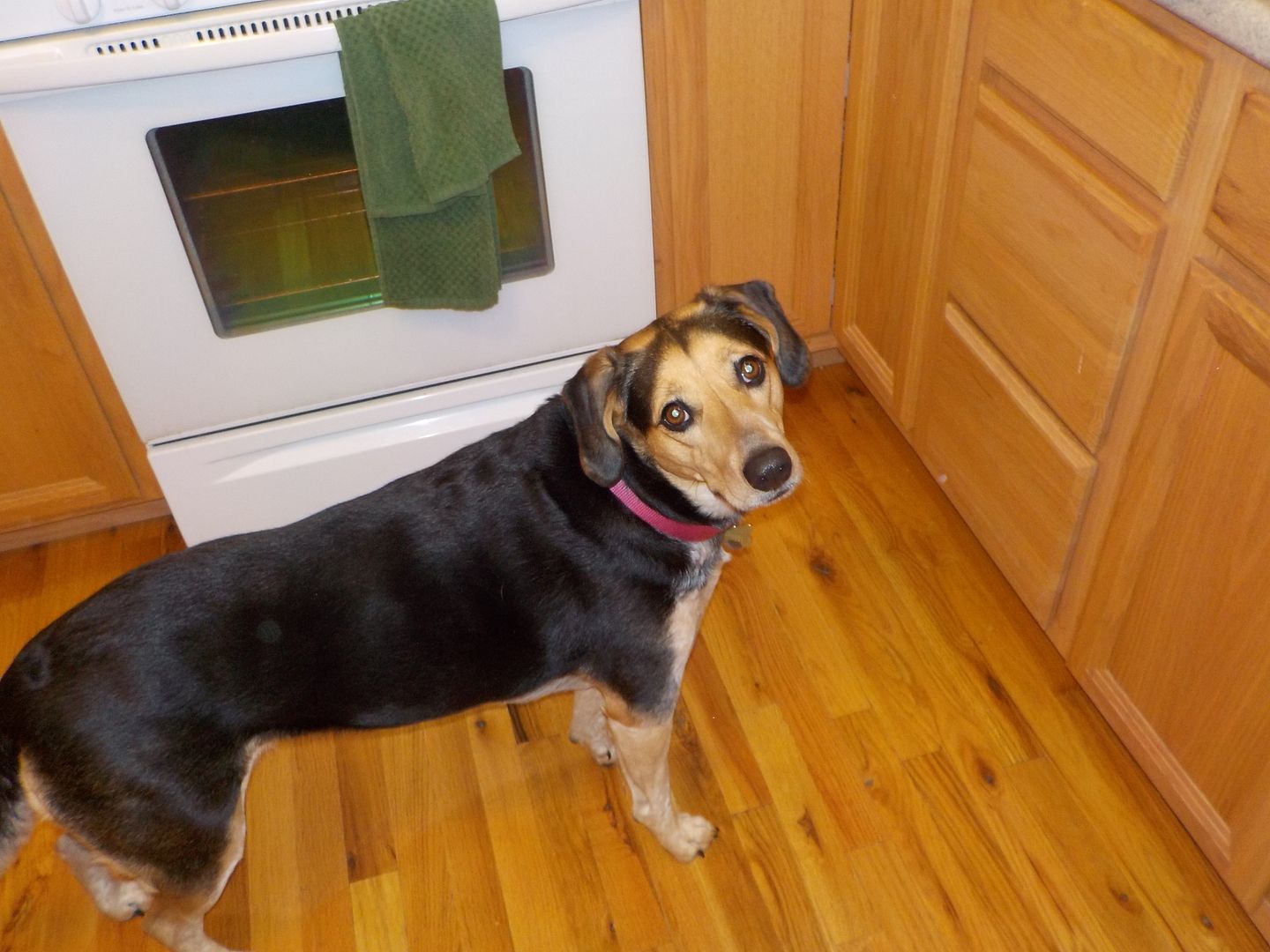 Penny hung out in the kitchen quite a bit hoping that I would "accidentally" drop some stuffing. Luckily, she was kept amused by my husband/"hubs", Frank, most of the night while he wrapped all the gifts for the family.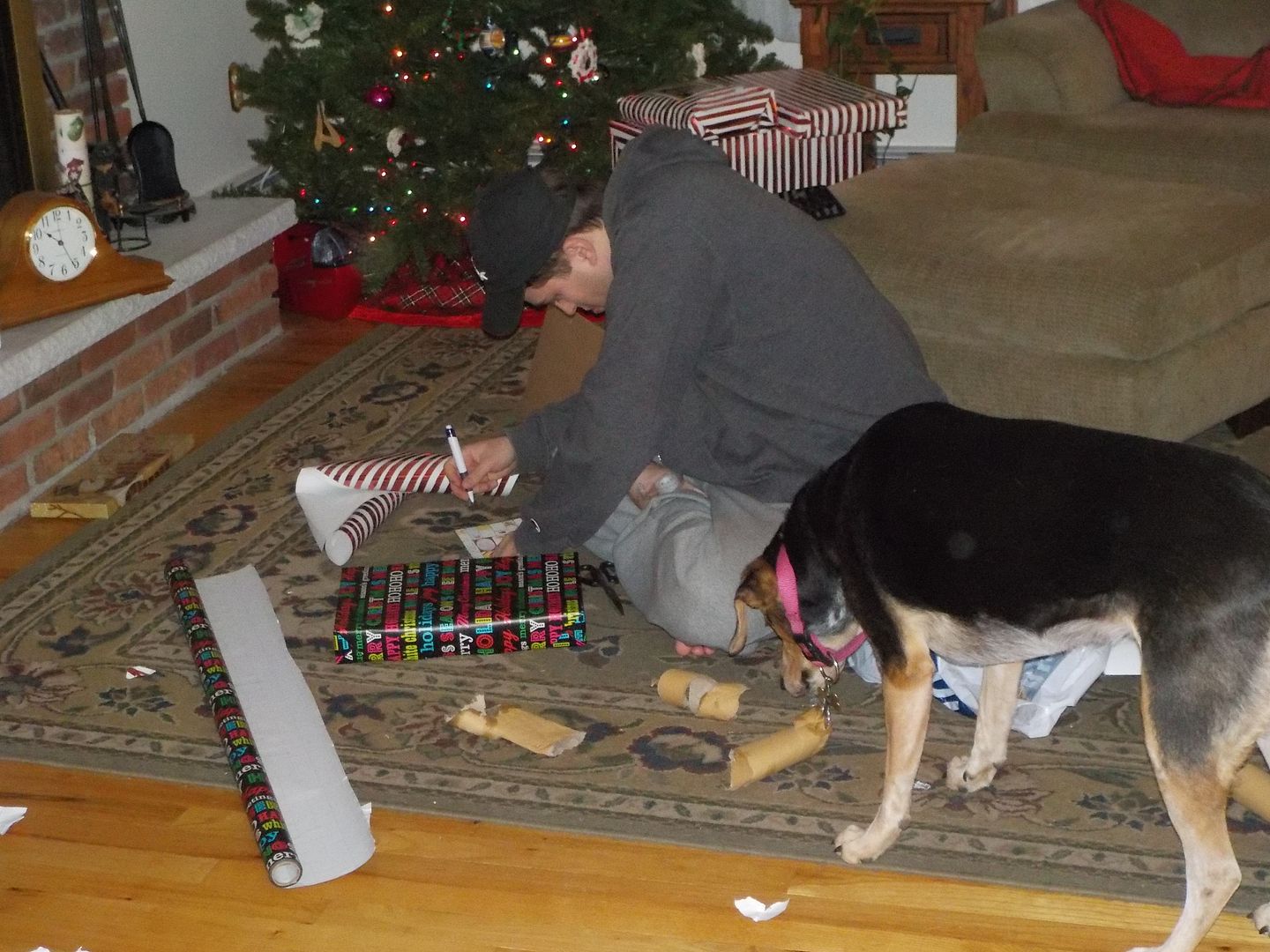 He is the best gift wrapper that I know. In college, as part of his customer service job at Filene's Department store he had to do gift- wrap and became practically a professsional wrapper.




It was late, but I still wanted to get some laundry done before I headed to bed. I wanted to wear some of it to dinner for Christmas Eve and also on Christmas day. I knew that I wouldn't have much time in the morning between exchanging presents with the hubs and packing up and heading up to my parents' house a few hours away. I need the room/house fairly quiet to go to sleep, but I do enjoy the lulling sound of the clothes drier on the floor below me when I'm going to bed at night :) By the time I got to bed it was about 1 am. After a night with some strange, and upsetting dreams, My alarm went off at 5:50 am and it took me some time to coerce myself out of "bed".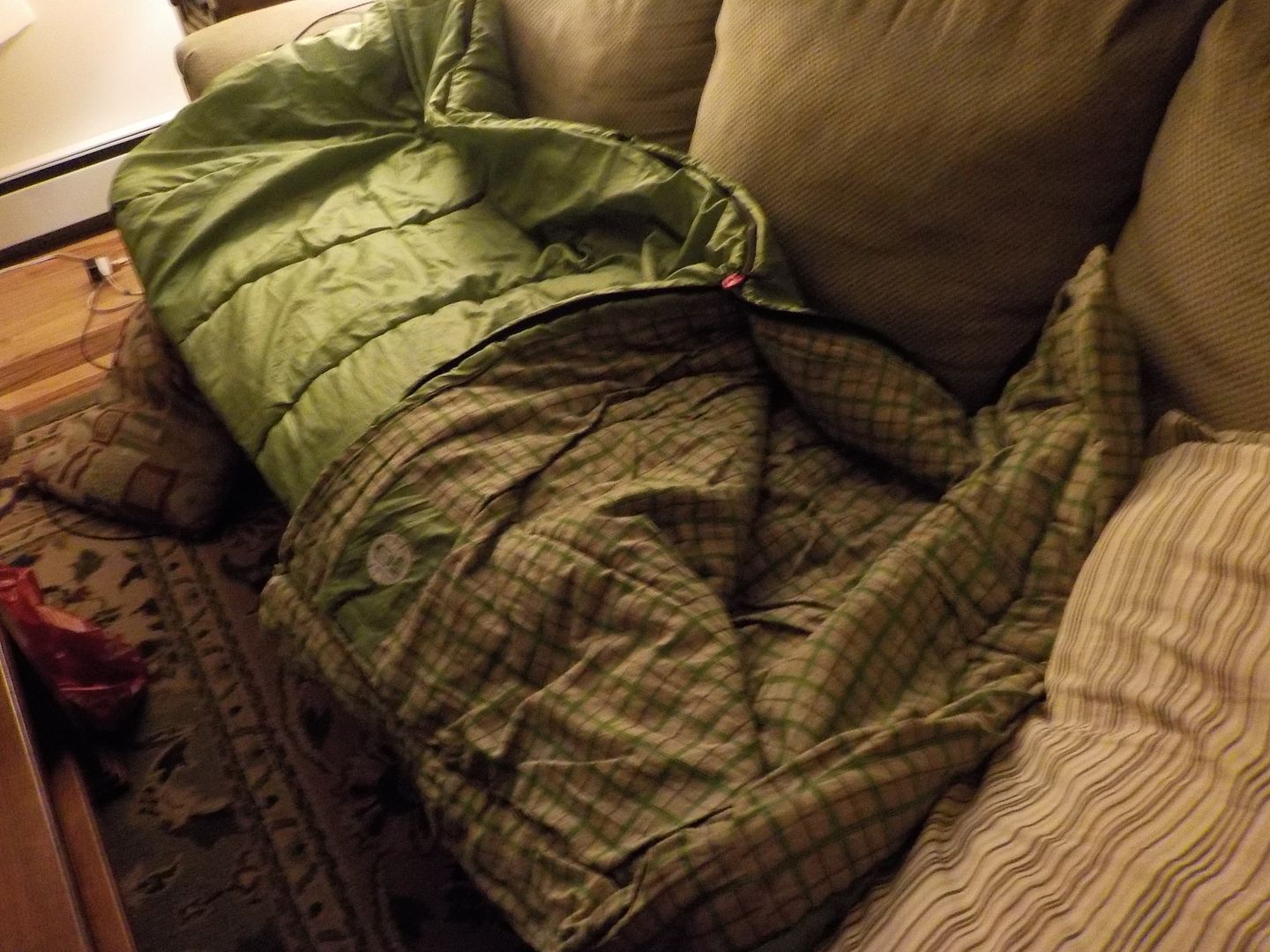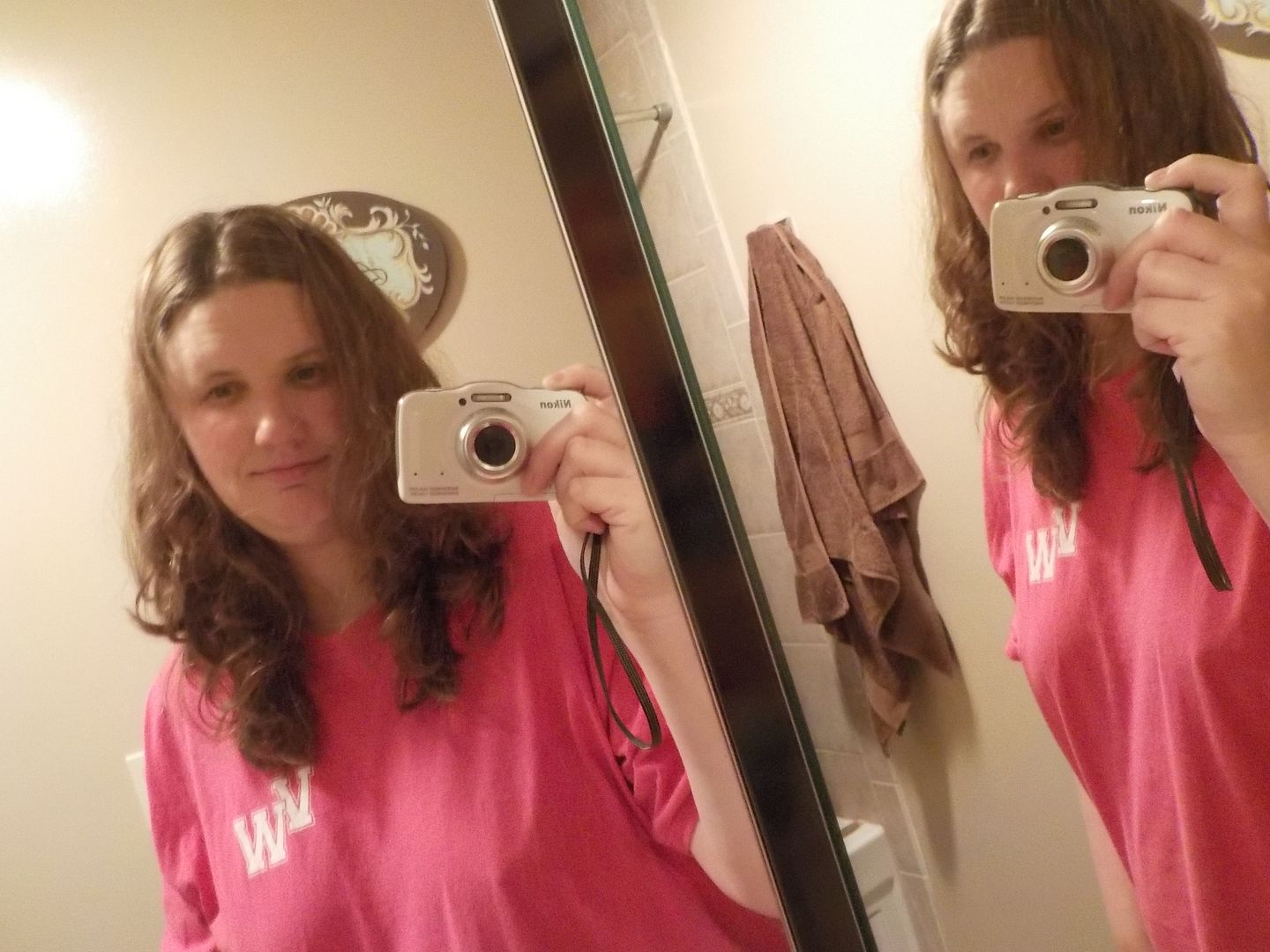 I slept on the couch because I was getting up to go to church early with my aunt and uncle and didn't want to bother the hubs with the annoying alarm on my phone super early at 6 am. Plus, our couch is more comfortable than our bed, so it isn't surprising to see either one of us on there occasionally!

Good morning! Then I have a quick shower and look a little bit nicer.




I'm not sure why I look like I might be in pain in my pictures. I think it was because I had to get out of the house soon and didn't have time to get a clear one done.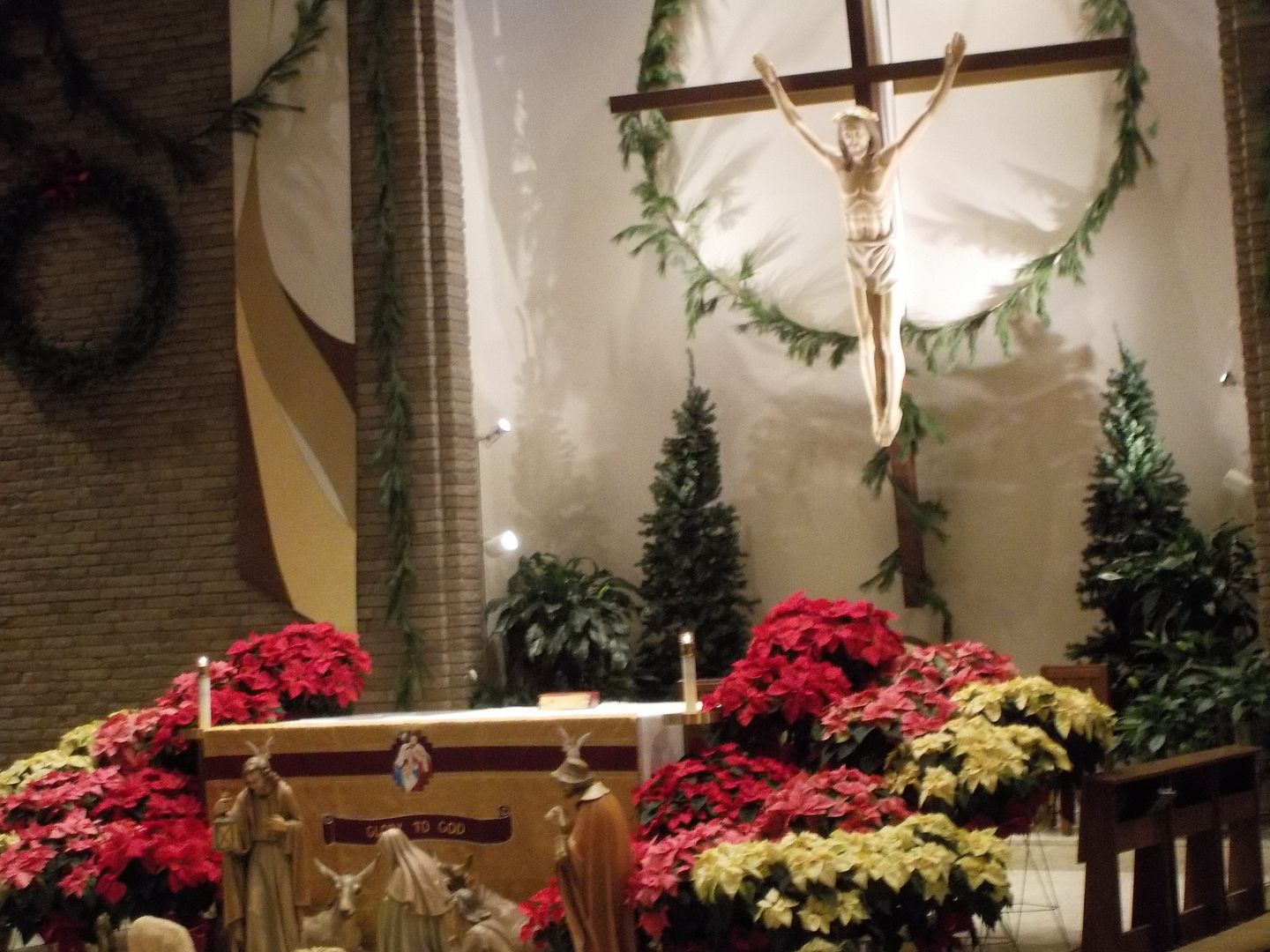 I met my Aunt Kristin and Uncle Kevin, my mom's sister and brother, at church for mass at 7:00 am. Aunt Kristin was having mass said for the deceased members of our family. Our church was decorated beautifully. It struck me as so funny, but sweet, that on the altar, where the manger scene was set up, they actually put fake leaves on the ground so it looked like the animals were eating them.




This little deli is where we went after church for coffee and breakfast sandwiches. We got there right as it was starting to get busy. No pictures of breakfast as it was soo good and I was hungry!




Just pretend you didn't see this picture of us! ;-) We were trying to get a nice pic with the mountains behind us, but my arm wasn't quite long enough.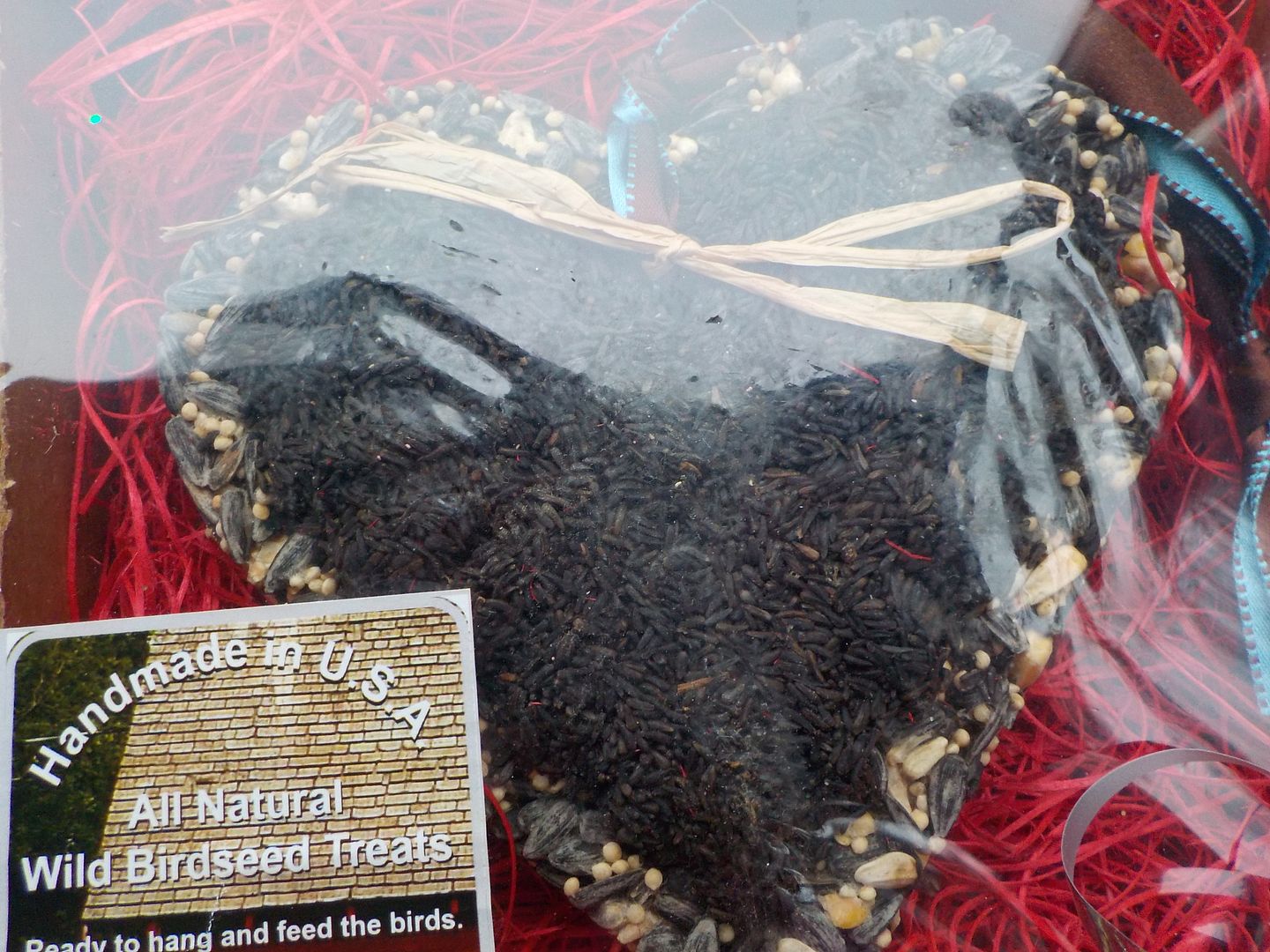 Kristin gave me this as a Christmas present. When my hanging suet feeder is empty I'm going to put this up for the birds to eat. I like feeding the wild birds (and squirrels) at my house, that's something that my mom does and I naturally had to do when I got my own house :).

Not pictured: After breakfast we go to the cemetery to visit my other uncle's grave and also my grandma and grandpa. Then I head home to get the stuffing that I made last night so I can drop it off at Ginny's before I go do some last minute shopping. Christmas Eve is my mom's birthday and I had a present for her, but I felt like I wanted to get her a little something else. First I went to Kohl's (Department store) and bought her some shirts that I thought she might like. Then I had to go to the grocery store to get marshmallows to put on top of the sweet potatoes for dinner.




I got home and hubs was awake and feeling more friendly than earlier in the morning. Note how Penny lays and begs for cereal. How can we really resist when she's so adorable?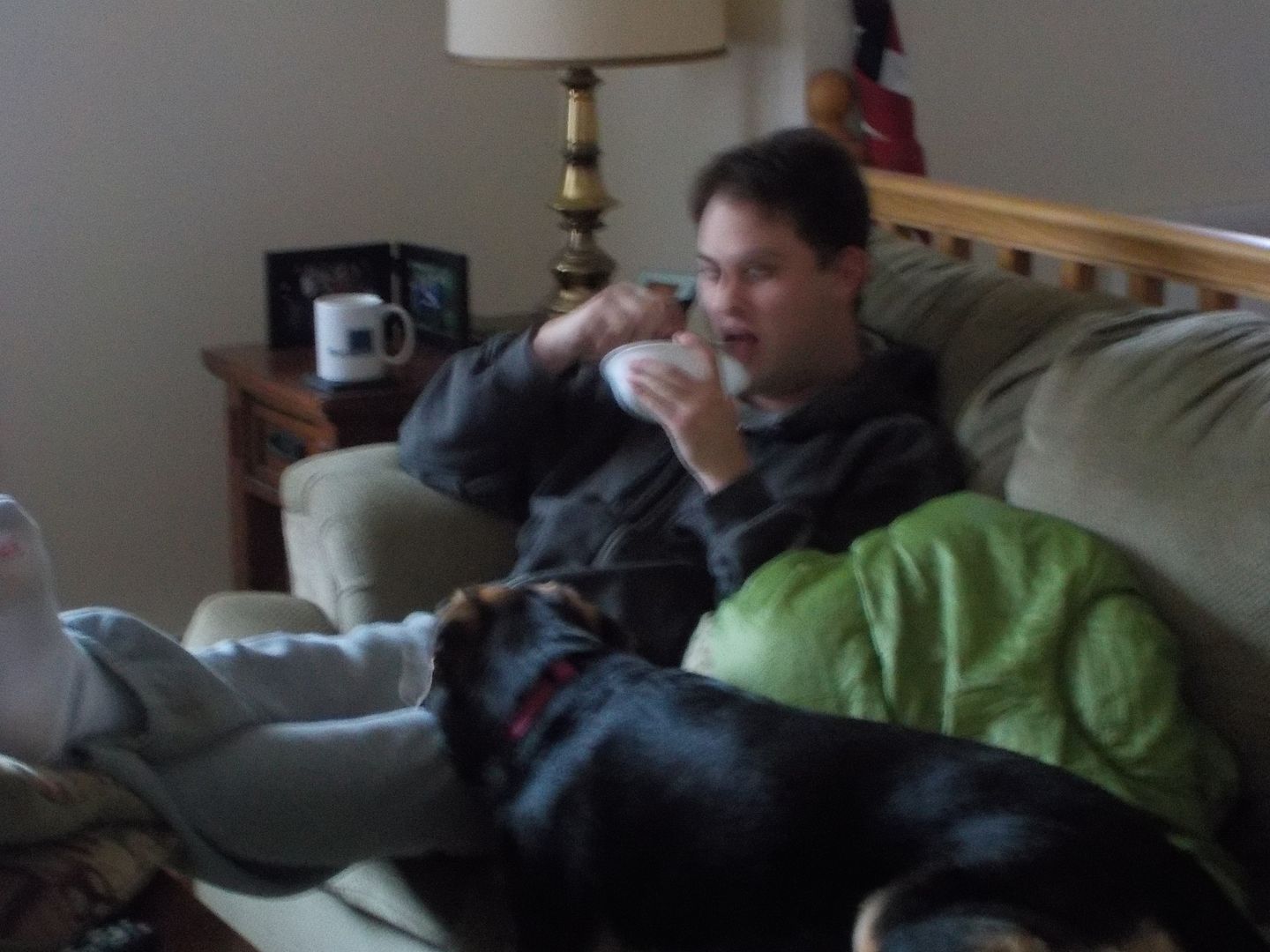 After he has breakfast hubs also needs to go do some last minute shopping, because the gifts he ordered a week previously wouldn't make it to us in time... While he did that I did some wrapping of my mom's birthday presents and the presents I was going to give him on Christmas.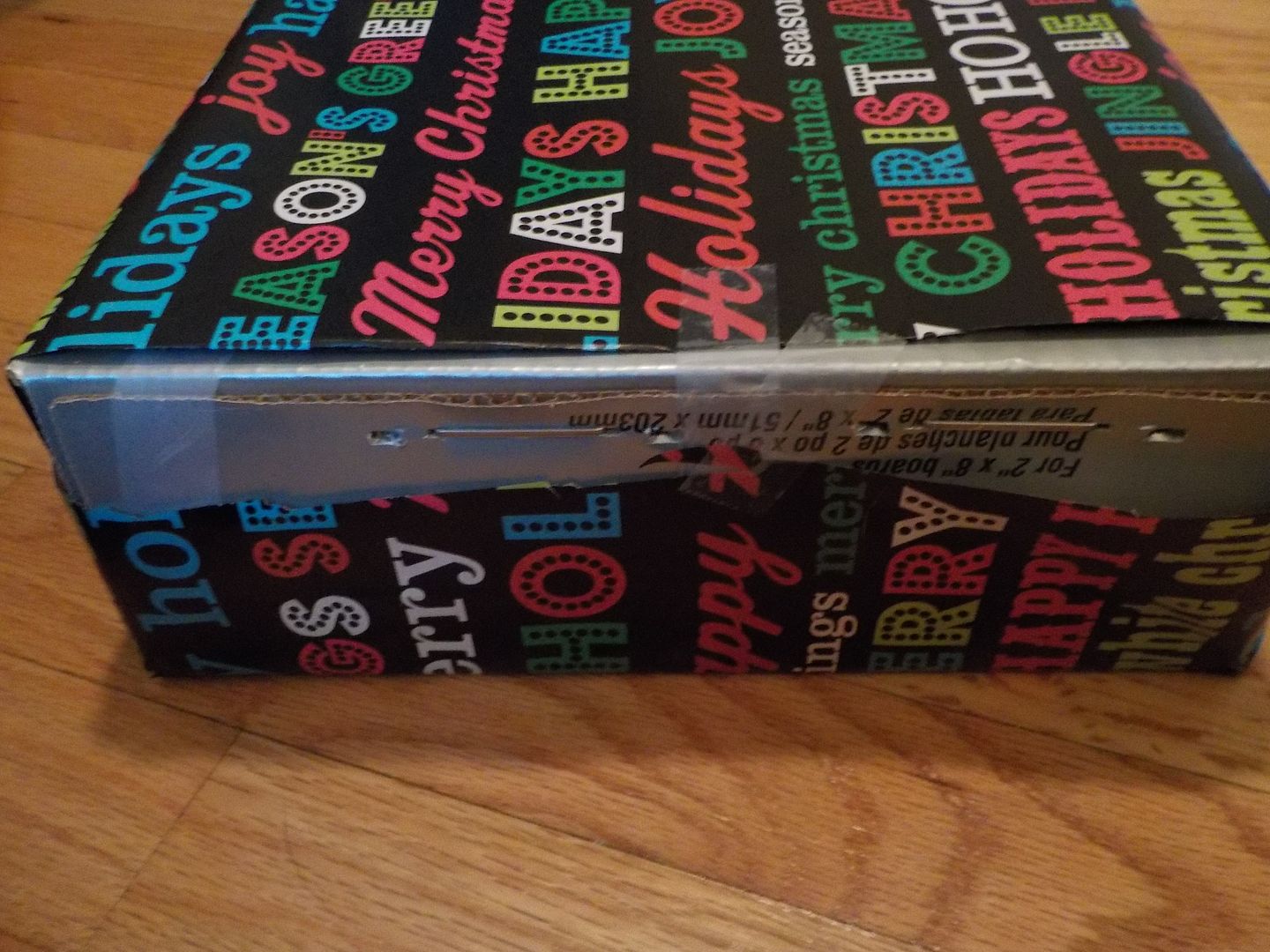 This is probably why the old saying "Measure twice, cut once" is so important. I was sly and he didn't even notice the poor wrapping job the way I covered it!





We both ended up using our goofy nicknames for each other on the gift tags. :)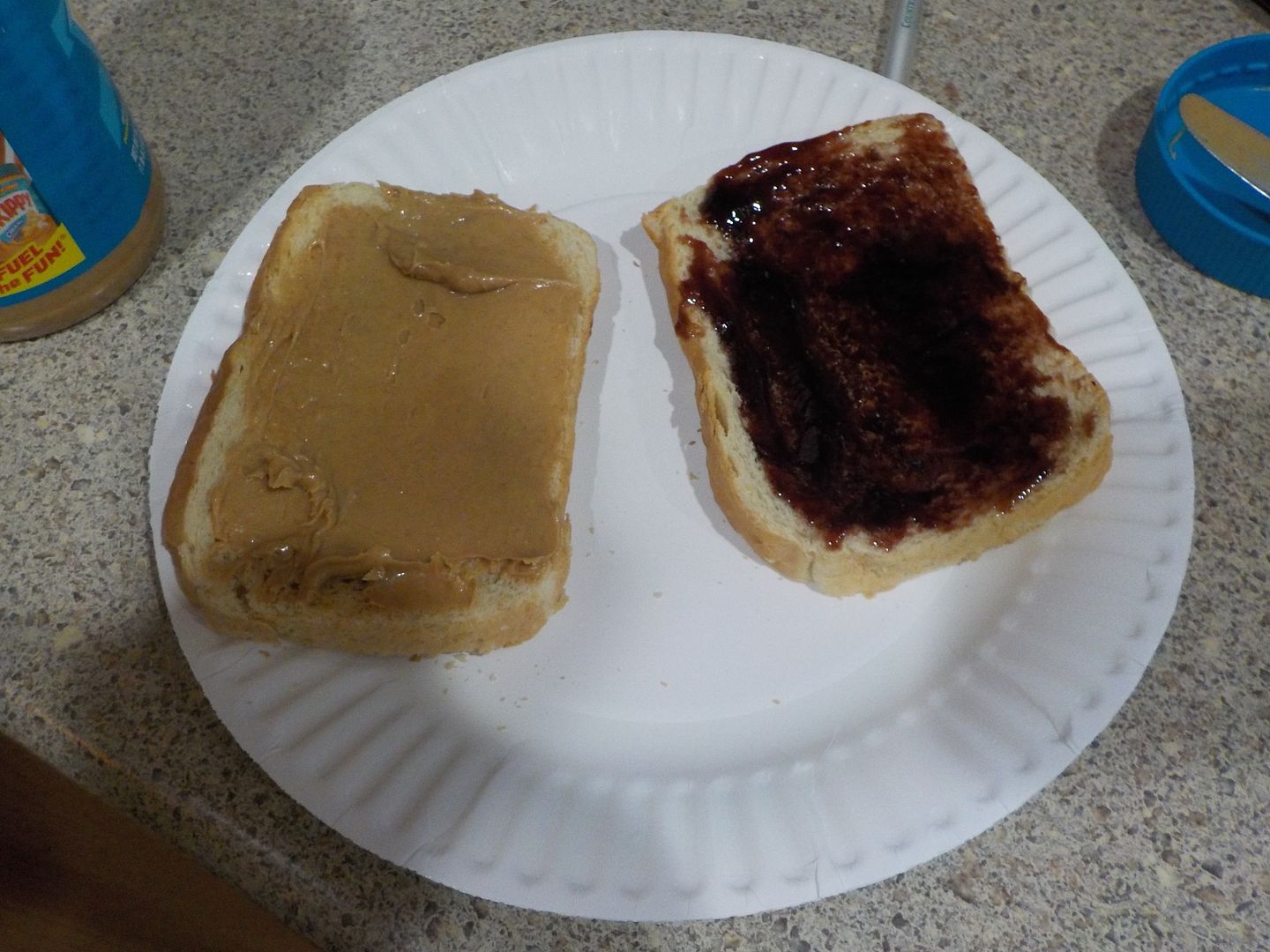 Wrapping presents made me hungry so I had a quick Peanut butter and Jelly sandwich.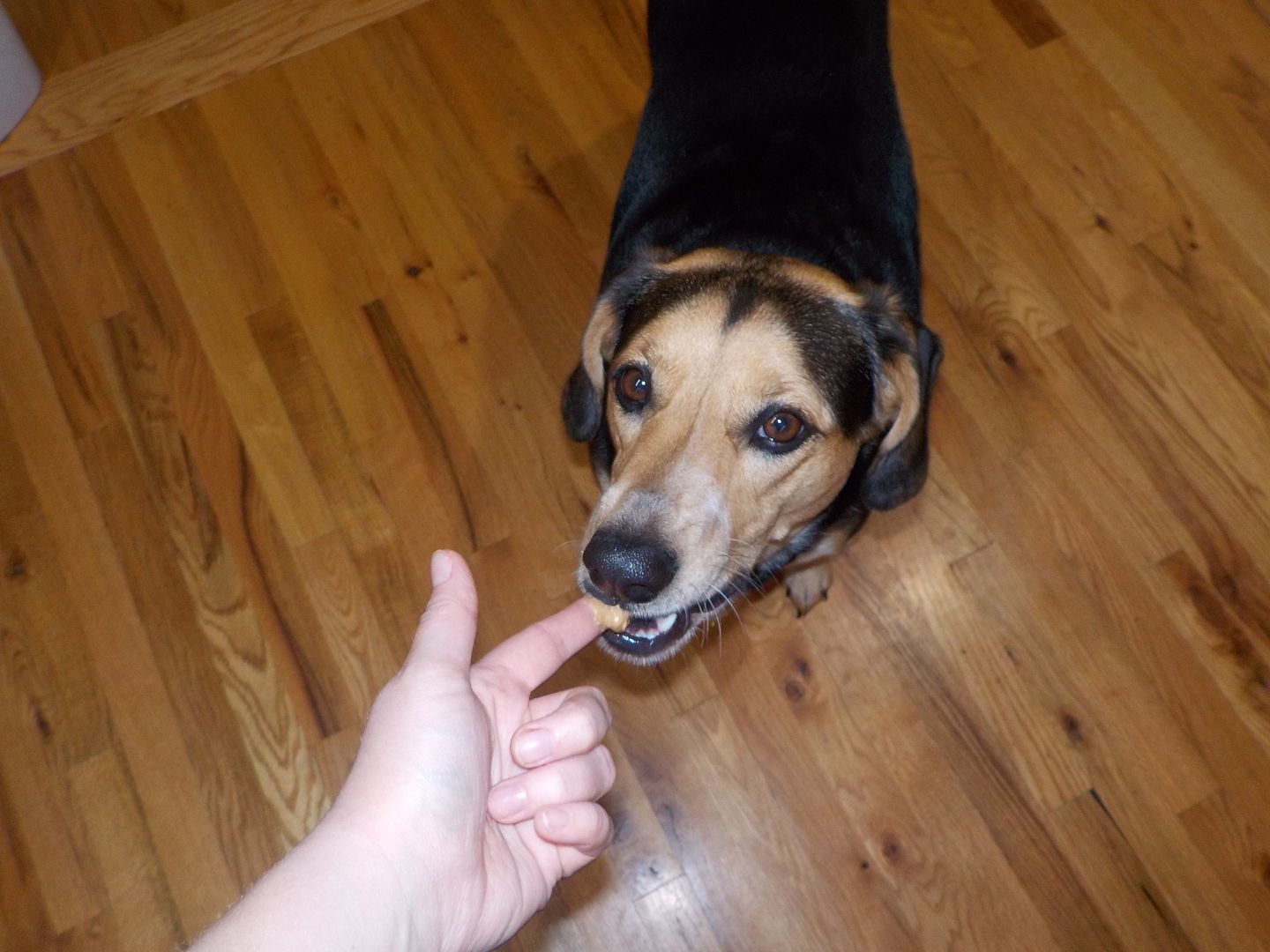 Guess who looooooves peanut butter? I don't think there has ever been a dog in my family who wouldn't do some hard core drooling for it. ;)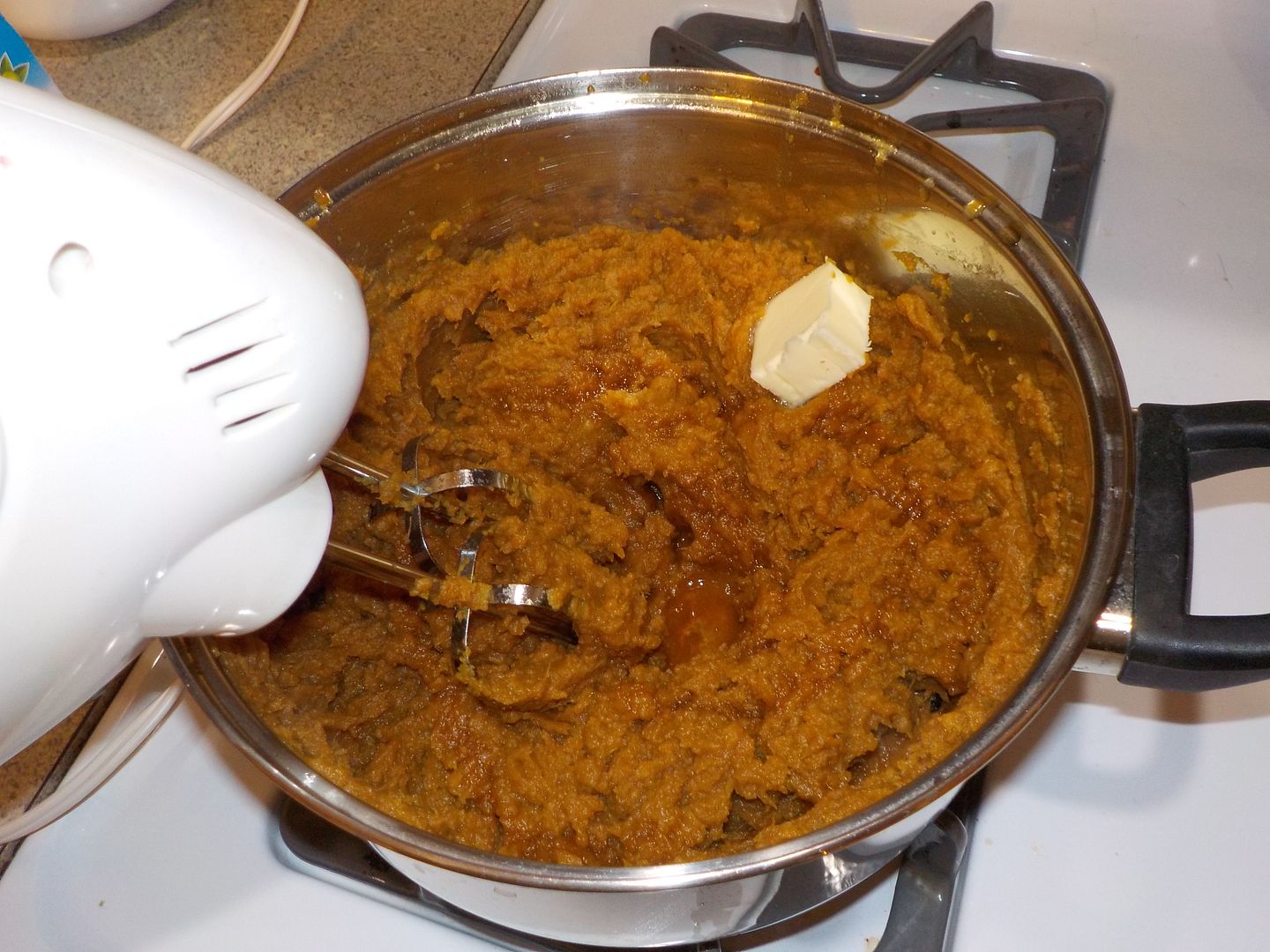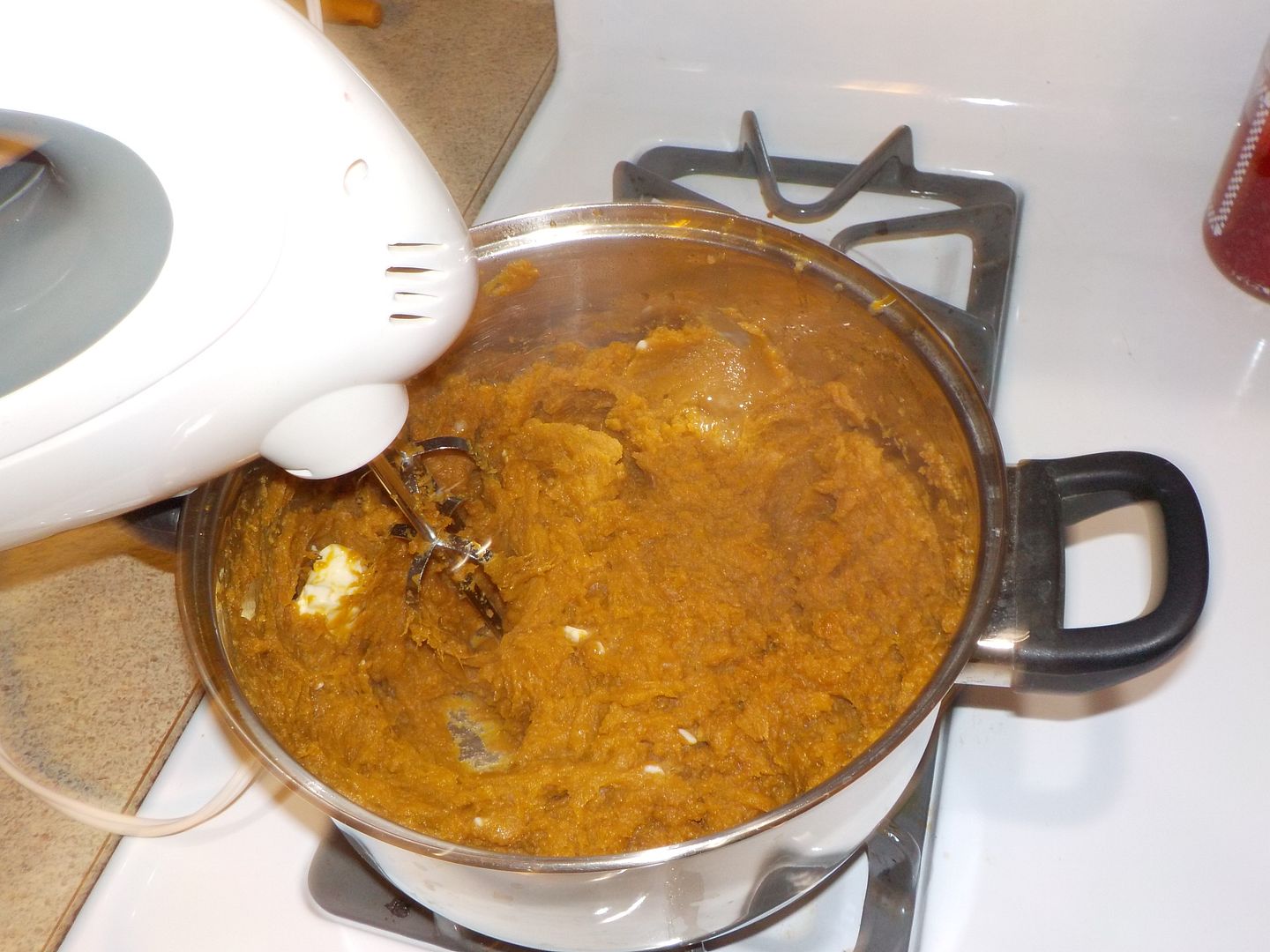 After my quick lunch I showered, washed my hair and then it was time to make the sweet potatoes.




Somehow I made a mess in the kitchen and had to get out the wet swiffer because my floor ended up a mess. Once I had the sweet potatoes baking in the oven I had a short amount of time to get dressed for dinner.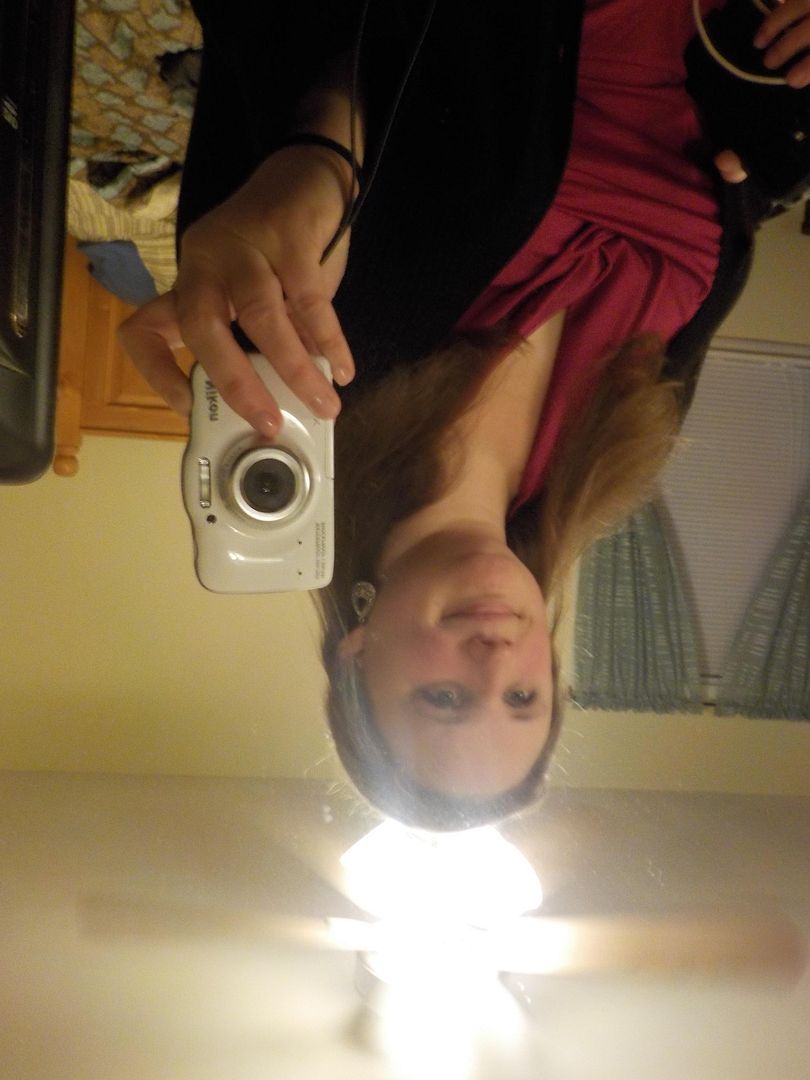 This is probably the best I looked all day.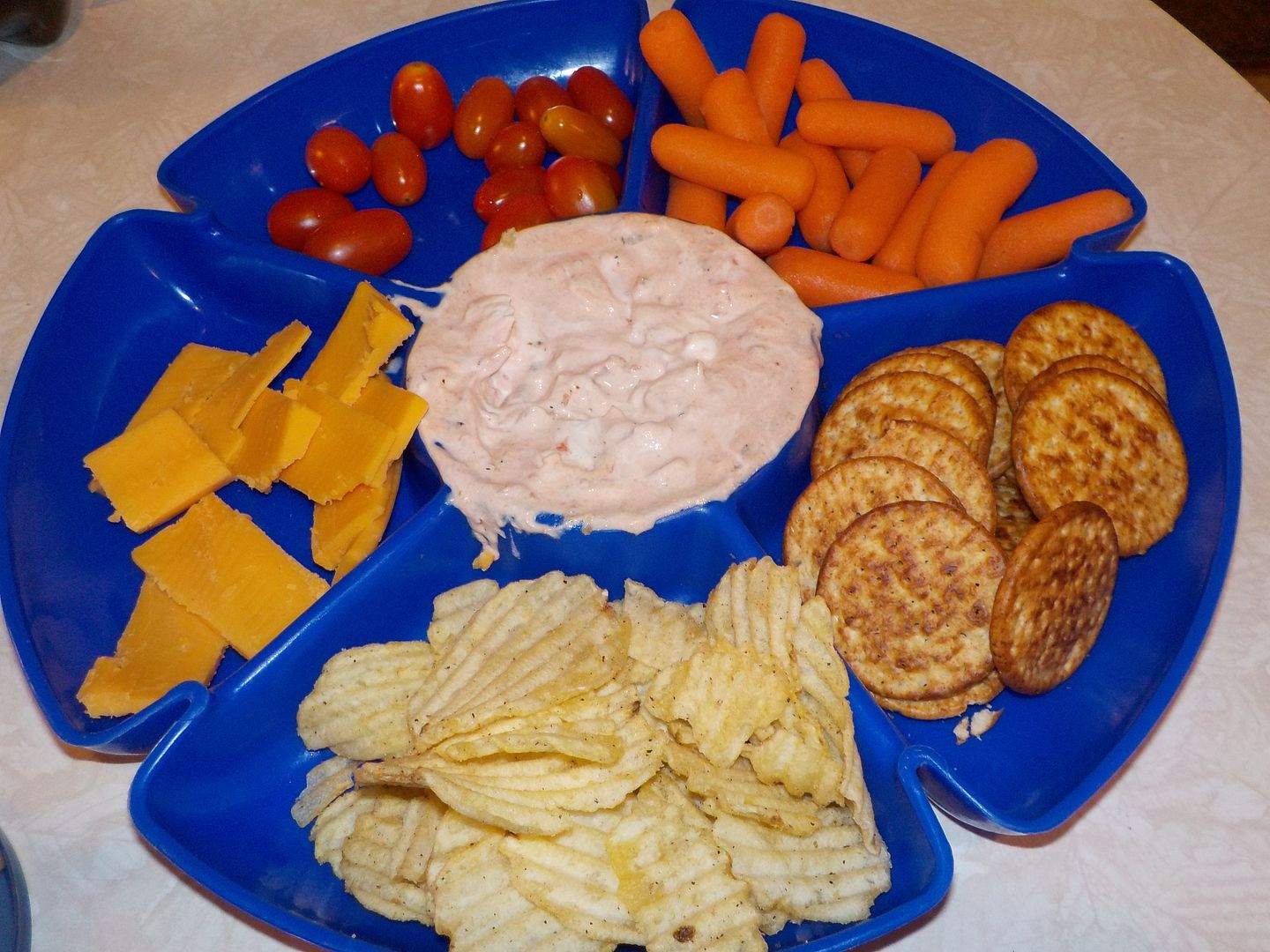 We arrived to hub's parents' house in time for the bird to come out and was about ready to be carved.
We waited for my brother and sister-in-law and their kids to arrive and had some snacks.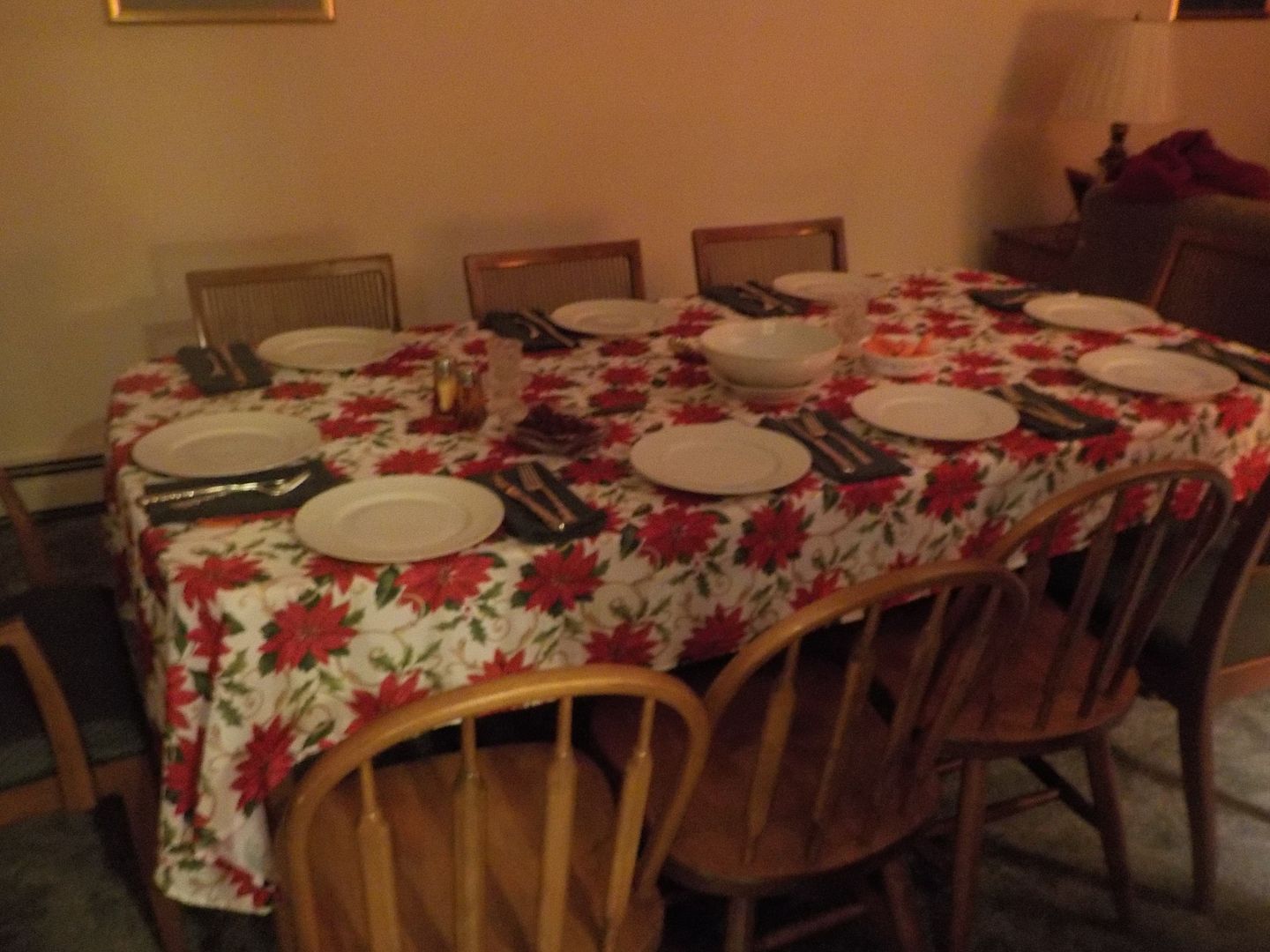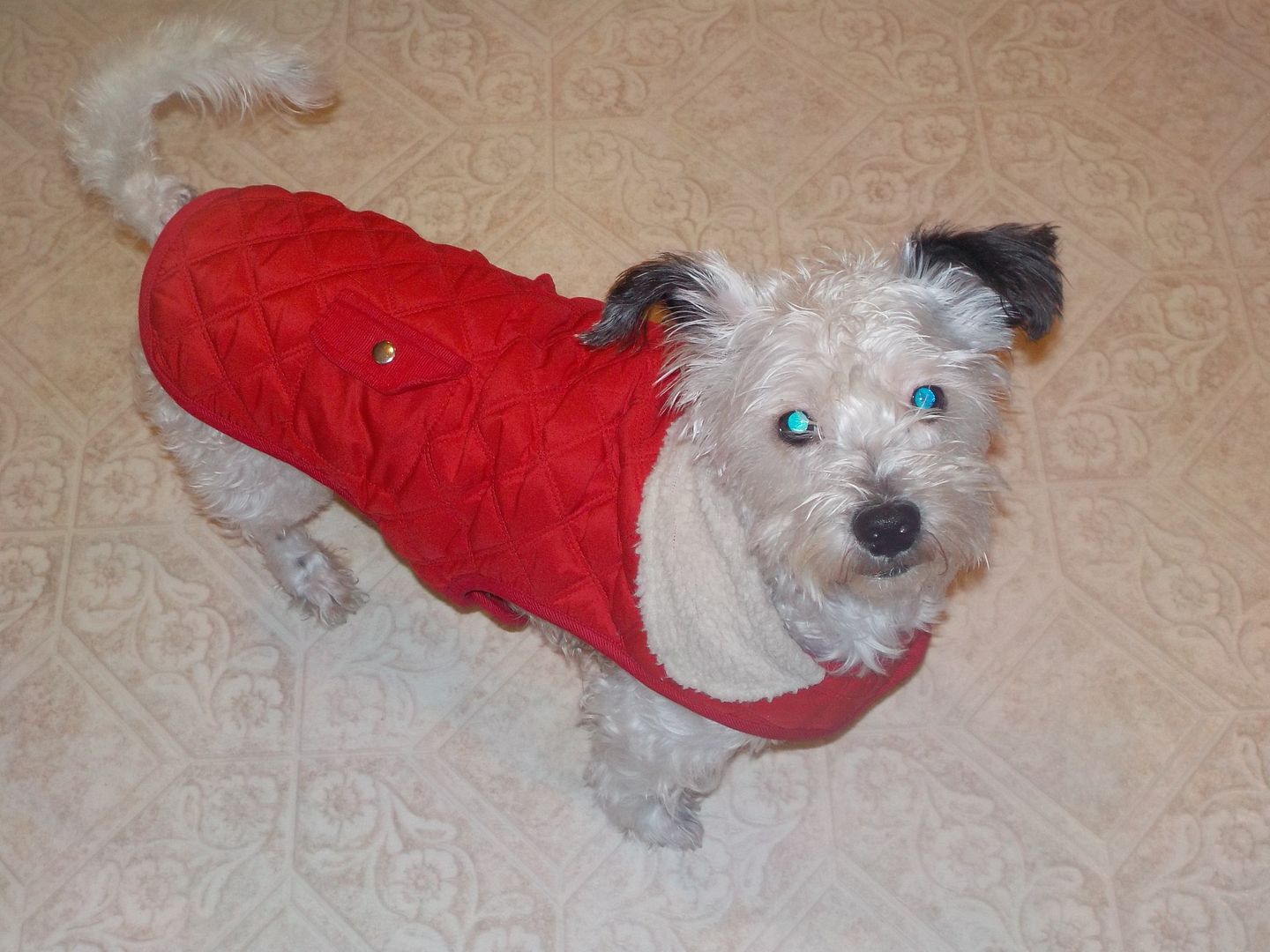 What else is there to do when you're waiting for the family to show up, but take pictures! They brought their dog, Teddy, over. Isn't he so cute? I prefer big dogs, but he is fun anyway :)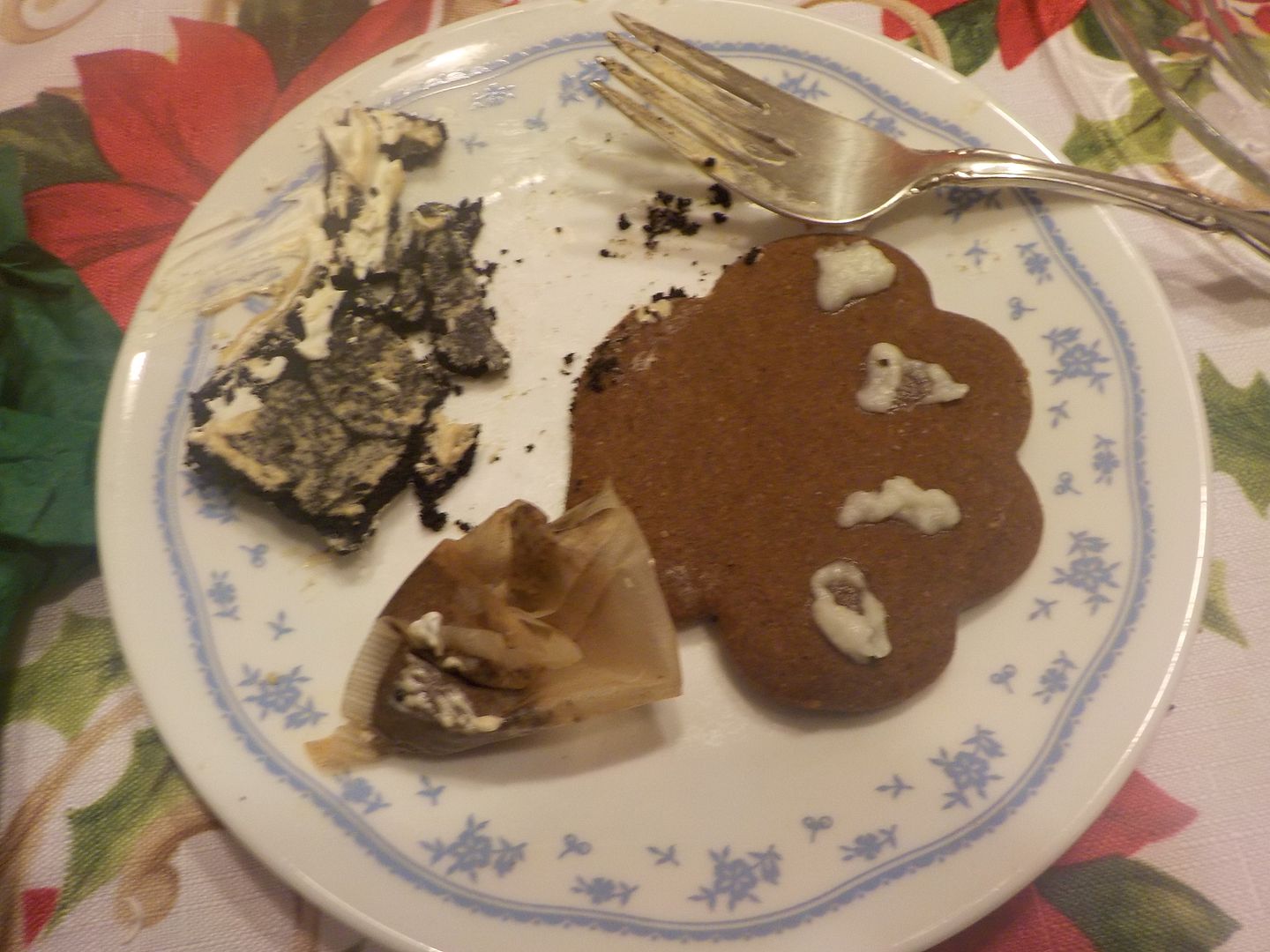 After dinner we hung out and digested. Then all the desserts came out. My sister-in-law did a ton of baking, plus brought over a few frozen/store bought pies. You would have thought there was 30 people eating dessert instead of 9 by the desserts to chose from! We have so much left over goodies from various parties and gifts this year.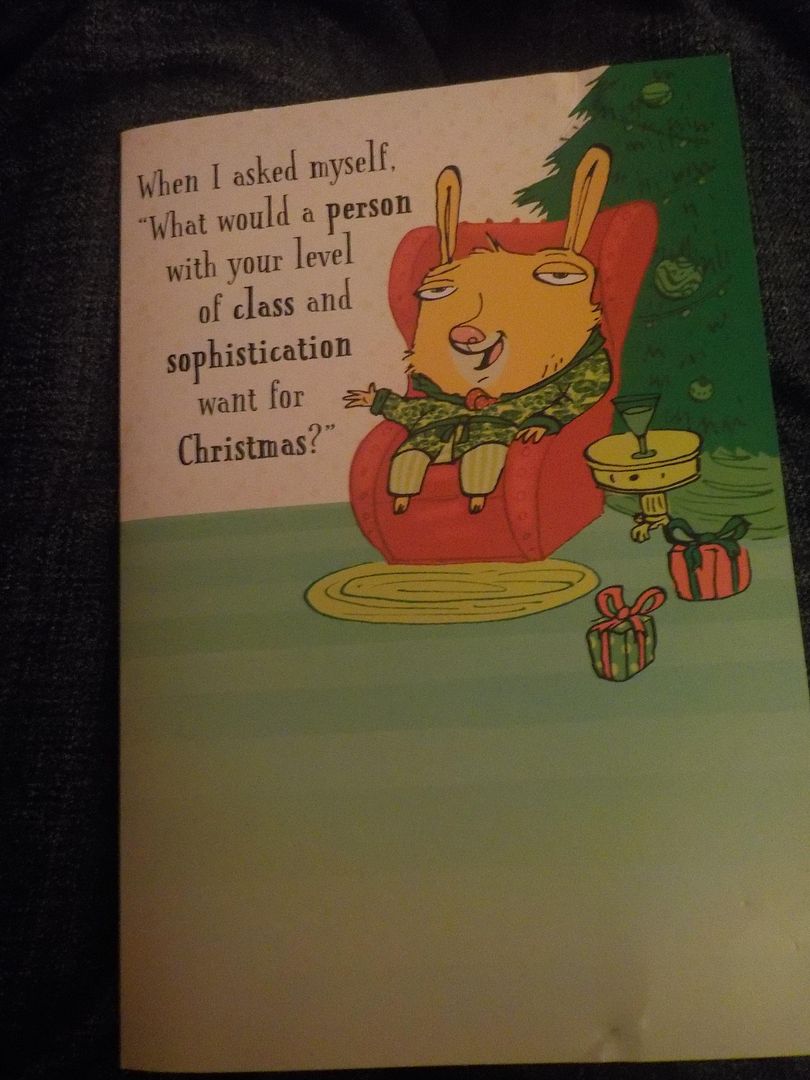 Then we exchanged gifts with each other. You know how every year there is some kind of unforgettable gift or something? Well, I think this year it was the card that Frank got our niece and nephews for Christmas. The card makes some sounds when you open it. I'll spare you the details of what the inside does, but to be honest, we ALL cracked up at the stupid card!




My mother-in-law sent us home with our gifts in various bags. I thought I had seen all of her old shopping bags until tonight! I definitely didn't recognize the name of this store. Apparently it was around in the 1980s and maybe 1990s. That always leads us to reminiscing about the old stores and malls we used to have in the area.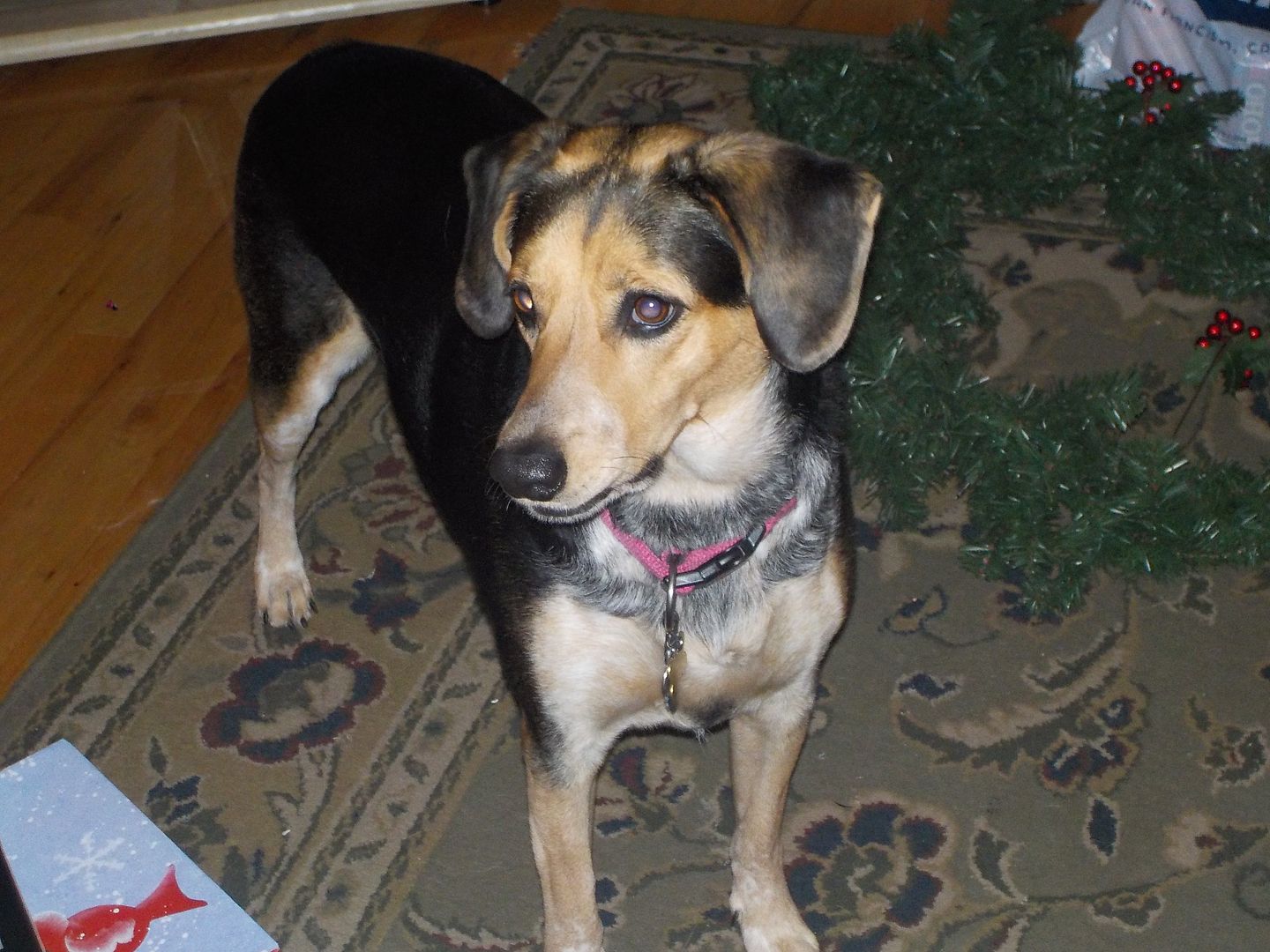 We head home and Penny is happy to see us again. She sniffs us a lot because Teddy was sitting on our laps and getting lots of pets from us. Frank decides to get to work doing more wrapping that he has left.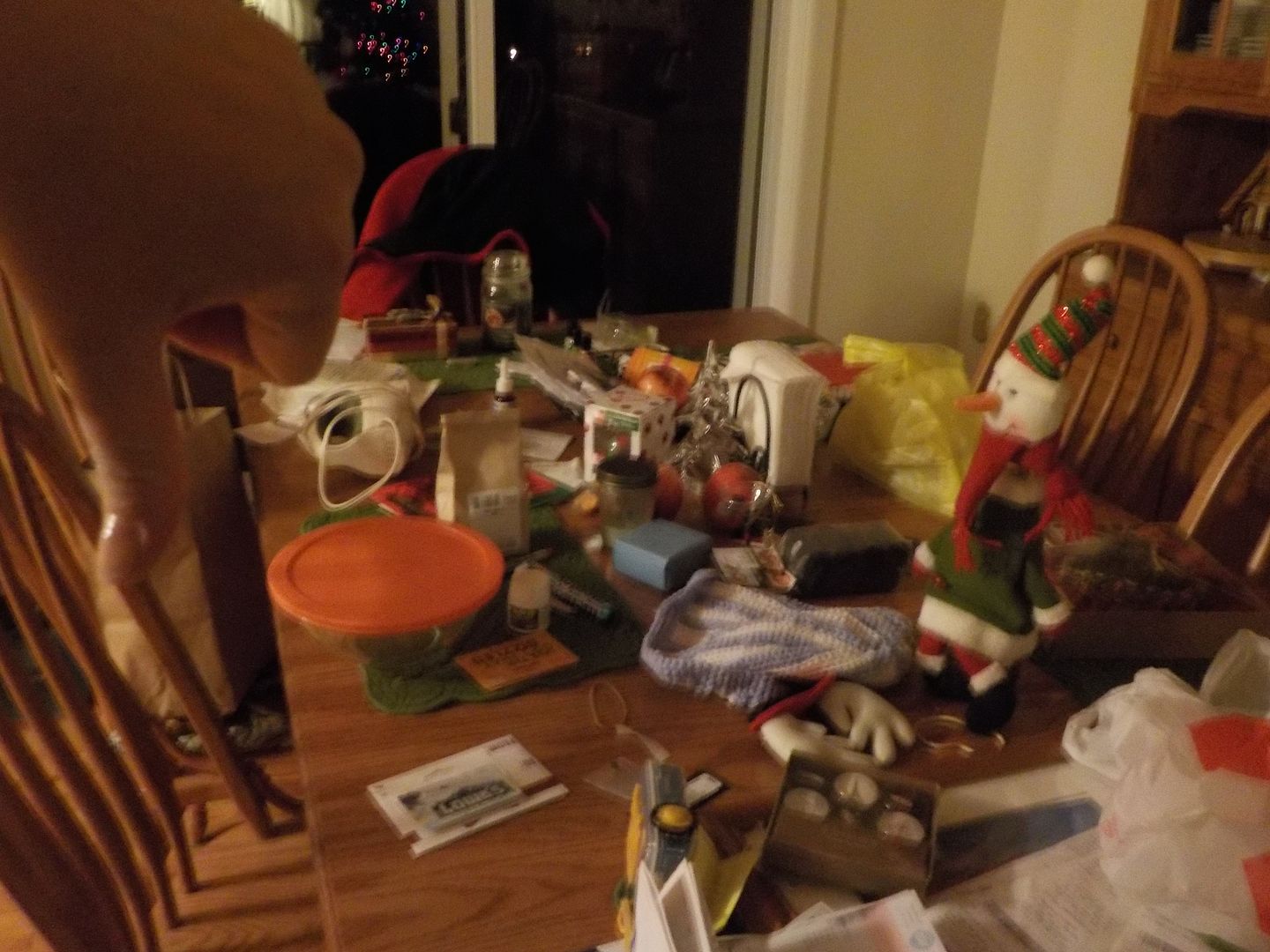 With all of my last minute shopping and holiday preparations, I haven't been keeping the house incredibly organized. So I decide to do a little organizing of at least the kitchen table. There's assorted mail to go through, gifts from coworkers to be put away, dishes that I took out while cooking the night before and other gifts from when Frank's cousin was up to visit the previous weekend.




It was overwhelming to me and I couldn't stand it being so cluttered. My anxiety kicked in, but not in a positive way. So, I only worked on straightening up for about five minutes before I threw in the towel and decided just to go to bed and try again in the morning.




Good night, and (since we're so past Christmas at this point) Happy New Year!



Thanks for following my day :)